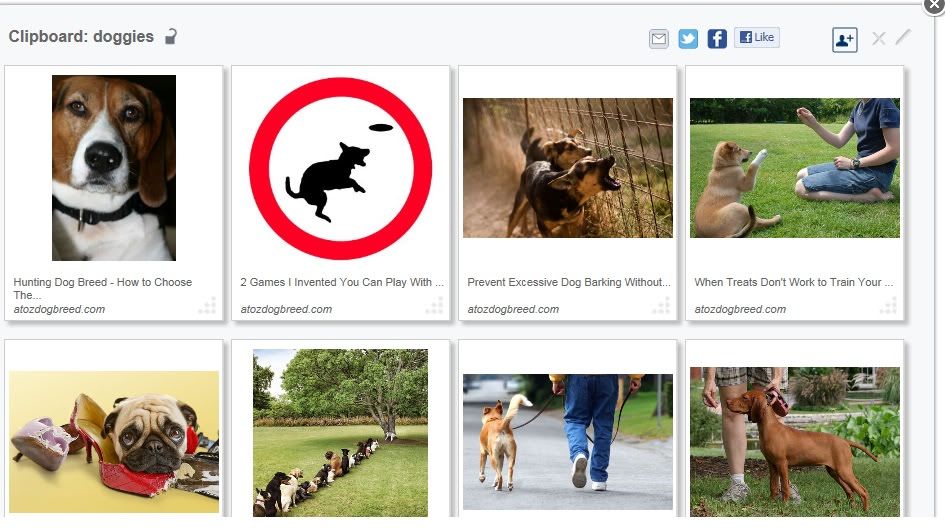 As you can see I love reading about dogs. It is great to be ale to pull up articles about dog training and fun things I can do with my dogs. It is also great for doggie recipe. The clipboard above is all the articles I have clipped related to dogs that I can easily look at any time day or night no matter where I am.
Have you ever been on the internet away from home and found something you would have bookmarked if you were at home? Or have you ever found something at home bookmarked it and you are somewhere else and need to go to the site that is bookmarked at home that does you no good now? I have! I just recently discovered clipix which will solve these dilemmas. Once you start using clipix you will find many uses for it. From recipes(including dog treat recipes) to gift ideas(your pets included) and even fun activities to do with your children and pets. There is also an iPhone App so you can take all you clipboards with you on the go and add new clips by taking photos of things you see. You can create custom clipboards for any purpose and rearrange the how you want. You can have your clips be private or share them with friends and family. You can also share your clips on Facebook and twitter.  Be sure to watch the Clipix YouTube video below.
 I have found that it has been fun way to share articles, recipes, deals and more. It is also great way to just come back to later.
Promoted Post